Digital dentistry is the practice of using digital, computer-assisted technology to improve the overall patient experience, from check-in to check-out. For dentists and patients alike, it's provided countless benefits.
Benefits of digital dentistry
When your dentist performs your dental treatments digitally, you can feel confident knowing that your treatments are being completed with state-of-the-art dental technology. Digital dentistry offers several benefits over traditional dental methods.
Digital dentistry offers:
Faster, more comfortable treatments
More accurate treatment planning
Fewer dental visits
Fewer dental x-rays
Less radiation exposure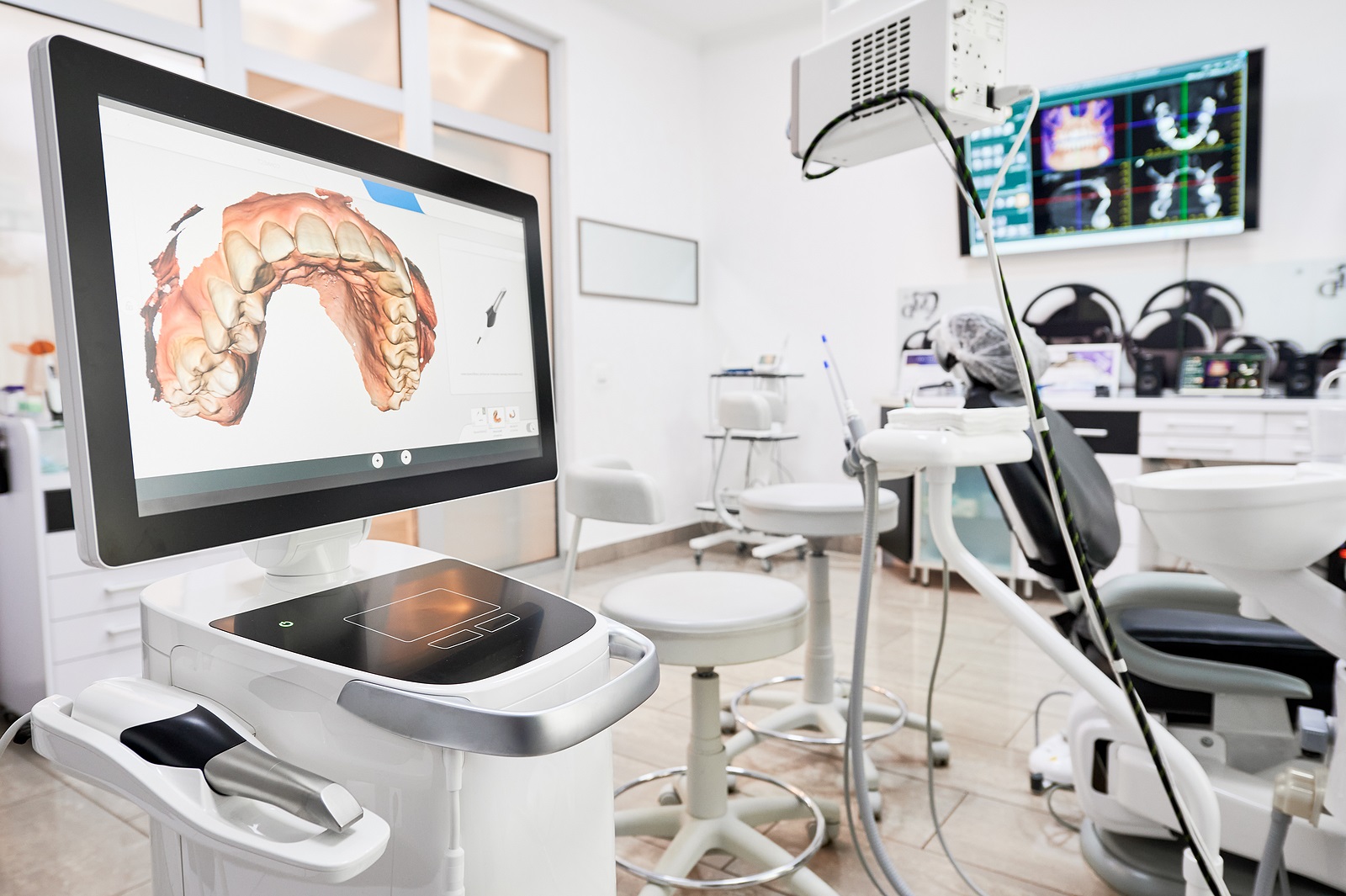 Digital dentistry - What does it include?
Digital dental X-rays are an example of digital dentistry that offers more than just convenience. They produce less radiation than traditional X-rays, and they offer instant images that allow dentists to easily share and discuss them with patients. It's also easy to zoom in closely on specific areas, such as a tooth or gum line.
Digital impressions use a special camera that captures images of the teeth, which are then transformed into a 3D image of the teeth, thus eliminating the need for traditional impressions. 
CEREC is an excellent example of digital dentistry that saves time and increases patient comfort. CEREC is an intraoral camera that takes an HD image of your tooth while applying a reflective powder. This image is then digitally transferred to the CEREC machine, which mills the restoration while you wait!
Invisalign uses a series of clear trays that fit over your teeth. Each aligner tray is slightly different, manufactured using special Invisalign technology, and gently guides your teeth into proper alignment.
In-office cone-beam CT (computed tomography) gives the dentist a complete view of the teeth and jaw. The scan gives the dentist the ability to view the inside of the mouth in three dimensions, which can provide a better understanding of the anatomy of the mouth. This can help the dentist determine appropriate treatment, such as dental implants or tooth extraction.
Computer-aided manufacturing (CAD/CAM)
CAD/CAM technology involves the use of digital impressions and computer-aided design and manufacturing of dental restorations. Dentists work with these digital impressions to determine tooth shapes, sizes, and contours. Then, they design and create restorations.
CAD/CAM technology is used in all phases of dental treatment. In the planning phase, it facilitates digital impressions. Then, it may be used again to create restorations. Finally, it may be used to create custom abutments.
A digital scanner is a huge technological advancement that benefits both the dentist and the patient. The digital scanner eliminates the need for a messy impression tray. Instead, it uses a small camera that projects an image of the patient's teeth. The image is digitized and sent to a lab, where a crown or veneer is created.
Intraoral cameras allow our team to closely examine a patient's teeth and mouth. They allow us to show patients their own teeth and show them problem areas. This makes it easier for patients to understand exactly what is going on with their mouths. Patients can also use these images when discussing problems with their smiles.
To learn more about our dental services, call us at (718) 459-4700 or visit Creative Dental of Queens, located at 63-58 Wetherole St, Rego Park, NY 11374.