Invisalign is an orthodontic solution that uses a series of clear aligners to gradually straighten your smile without metal wires or brackets. These aligners are made out of a special type of plastic that gently shifts your teeth into their proper positions. Every two weeks, you will switch to a new aligner, which will continue to move your teeth into their ideal positions.
How Does Invisalign Work?
Invisalign treatment begins with you visiting our dentist for a consultation. During this time, our dentist will examine your teeth and mouth, as well as take dental X-rays and impressions of your teeth and mouth.
Next, our dentist will create a personalized treatment plan. This plan will map out your Invisalign treatment from start to finish, including the length of your treatment. This plan will take into consideration how your teeth and mouth should look when your treatment is complete.
Each aligner is designed to be worn for two weeks before being switched out for the next aligner. The aligners are designed to gradually move your teeth into correct alignment. You just pop in a new set of aligners approximately every two weeks until your treatment is complete. That's it!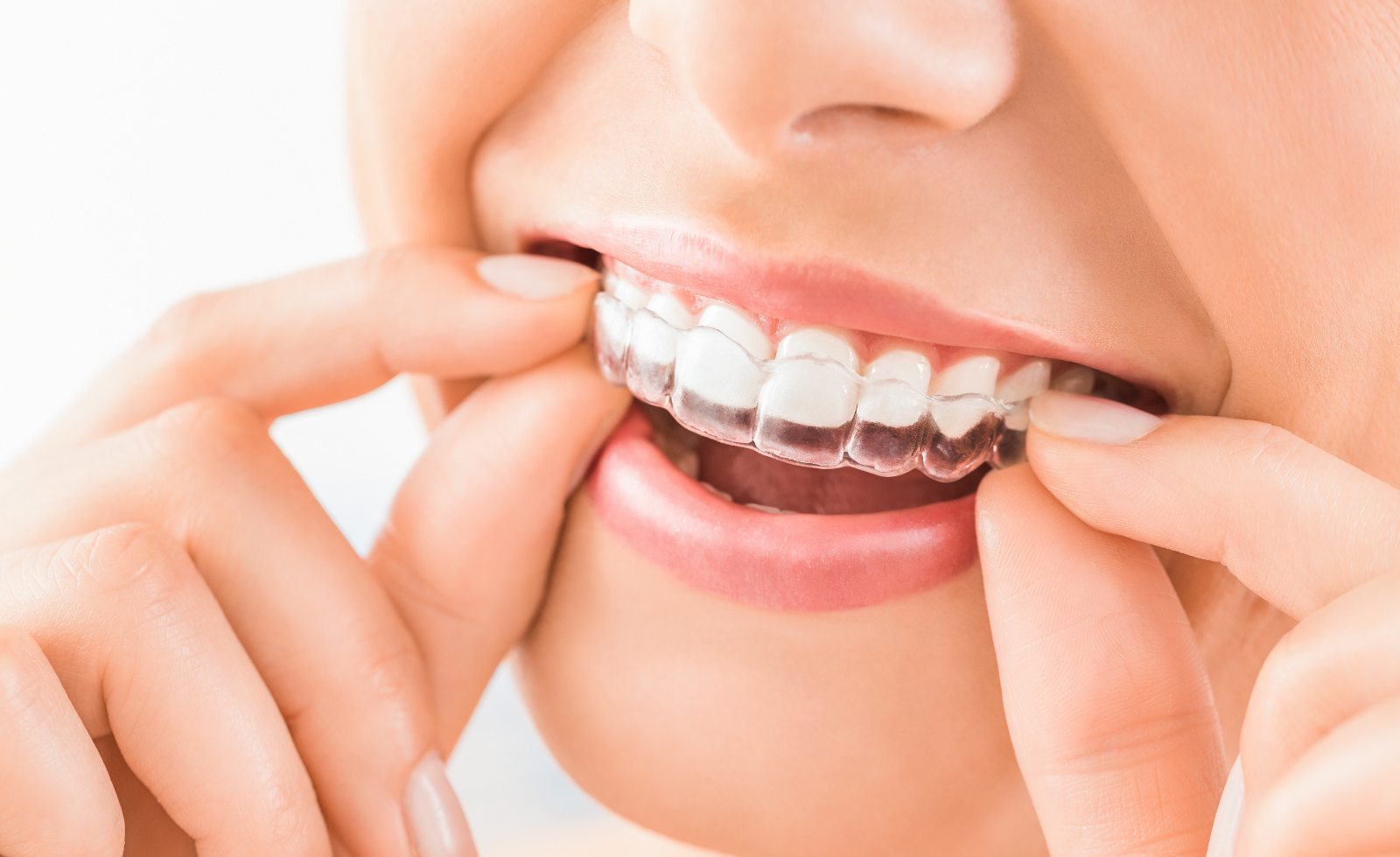 Benefits of Invisalign aligners
Invisalign aligners are removable, so you will be able to take them out for special occasions. 
No Metal Wires or Brackets
Invisalign aligners are made from a clear plastic that is virtually invisible when worn. No metal wires or brackets will interfere with your day-to-day life. 
Because these aligners are smooth and fit snug against your teeth, you won't have to worry about irritation or mouth sores like you might with other orthodontic options.
Invisalign aligners are removable, so there are no food restrictions during orthodontic treatment. 
Invisalign aligners are removable, so you can brush and floss your teeth as you normally would. 
Invisalign aligners are virtually invisible as they are made from transparent plastic. 
How Long Is Invisalign Treatment?
Treatment length varies on a case-by-case basis. Most patients can achieve their treatment goals within 12 to 18 months. However, some cases may require longer treatment times. Our dentist will provide you with an estimated timeline of your treatment during your initial consultation.
What Results Can You Expect With Invisalign?
Invisalign treatment is ideal for patients who want a straighter smile but don't want to wear metal braces. Invisalign treatment provides the same benefits as braces but without the hassle. 
To learn more about our dental services, call us at (718) 459-4700 or visit Creative Dental of Queens at 63-58 Wetherole St, Rego Park, NY 11374.